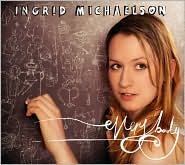 Oh my heck!
Can i just say how much I love Ingrid Michaelson?
She is the best thing since sliced bread! I bought her "Everybody" cd last night, and the songs are pure cleverness. The lyrics and melodies are truly genius. I love it!
I suggest you all get on to your itunes and at least listen to it. You never know, it may change your life.
Caitlin <3
P.S. only 13 more days till her concert! :) :) :)
*****UPDATE*****
So I'm a little late blogging about all these major events that have happened this past year, so I'm going to blog about them anyways. :)
Ingrid Michaelson is my hero. She is so talented in every way, shape, and form. The concert seriously changed my life for the better. We stood almost front row and right in front of her. And I almost cried. Her lyrics and harmonies are glorious.